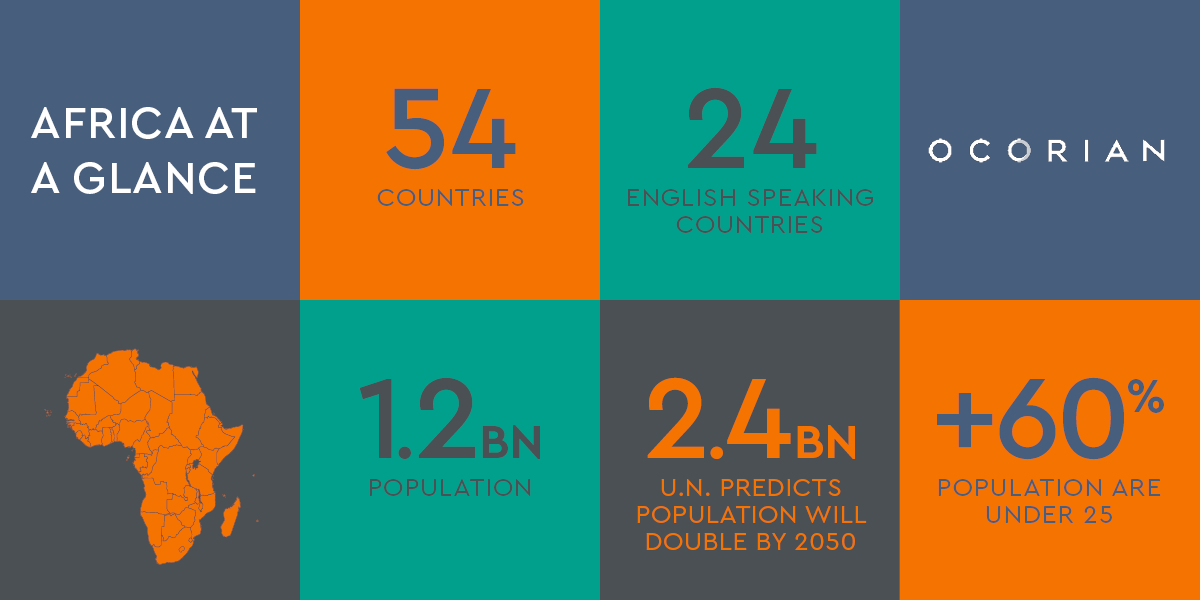 As the UK government pursue a vision of a 'Global Britain' in light of continued uncertainty surrounding Brexit, both they and UK investors are looking towards Africa as an attractive destination for investment.
As global factors such as trade tensions, cyber-security and terrorism stunt corporate growth within the developed world, stringent regulation and legislation has become the norm. In the shadow of this tension, Africa is providing a frontier where entrepreneurship and investing endeavour can find value and long-term growth.
Africa has long been a place of investment intrigue, yet with 54 countries making up a population of over 1.2 billion, and UN estimates predicting the population to double to 2.4 billion by 2050, the continent appears to have a lucrative road paved with potential ahead of it. Today, established (and growing) agriculture, natural resource and manufacturing industries are being joined by an encouraging and necessary thirst for FinTech and infrastructure development across the continent, stirring a vehement new wave of foreign investment. Driven by China, international competition for influence on the continent is at an all-time high.
Who are the notable investors in Africa?
Over the last two years, the most notable investors in Africa have been China, Germany and France. Germany has dubbed their push as the African 'Marshall Plan', as it seeks to alleviate a slump at home by stimulating and harnessing growth on the continent. In comparison, France is rolling out a 'Digital Africa' initiative which will provide financial and digital resources for African startup entrepreneurs.
China - the continent's biggest trading partner - has been even more robust. At the Forum on China-Africa Cooperation (FOCAC) in September 2018, President Xi Jinping pledged a second $60bn commitment in the form of loans, aid and investment - with a particular focus on 'connective infrastructure'. This follows an initial $60bn commitment announced in 2015; a sum gradually being invested in projects across the continent. The investments form part of China's $900bn 'One Belt, One Road' initiative to connect Africa, Asia and Europe via dedicated overland and maritime trade routes.
Never one to miss out, the UK government has stepped up efforts to enhance their working relationships with African nations, particularly with three of the continent's biggest players, South Africa (the UK's biggest African trading partner), Nigeria (Africa's largest economy) and Kenya. As uncertainty surrounding potential Brexit implications continues, it is evident that both UK government and business leaders have Africa in their crosshairs as a destination for long-term investment and trade. In May 2019, foreign minister Jeremy Hunt announced $110m worth of investment by British companies into Nigeria and Ghana. The announcement was made in Ghana, part of a five-country tour by Hunt who is also visiting Senegal, Nigeria, Ethiopia and Kenya.
According to Hunt, the ambition is to make Britain Africa 'new partner of choice'. 
Yet there is a lack of high level engagement. Theresa May's Africa trip last August was the first by a British prime minister since 2013. She is the first to visit Kenya in 30 years. In contrast French president Emmanuel Macron has notched up almost a dozen visits since taking office in 2017.
This doesn't mean the UK's efforts should be dismissed, but it's a long way off being Africa's 'partner of choice'.
Where will investment in Africa be focused?
The general sentiment among investors is that a focus on investment in African manufacturing, infrastructure and trade is, and will, establish more profound public and private sectors with a maturing and consumer-hungry middle class. Investment within these sectors is hoped to stimulate long-term economic growth, provide enhanced trading opportunities and consequently, raise African GDP.
This type of sustainable, 'impact investing' has become commonplace within 'Western' private equity firms. They see impact investing as a necessary trend that underpins foreign investments and their success, ensuring the sustainability of investment projects and contributing to the wider environment and society; in line with the UN's Sustainable Development Goals (SDGs).
Investments with long-term goals are in high demand in Africa. According to World Bank figures, six of the top ten fastest growing economies in the world are located in Africa and they require sustainable foundations to support that growth. This growth is, in part, reflected by the 2019 African Economic Outlook (AEO) analysis. The AEO analyse macroeconomic developments and prospects in Africa, and recent analysis shows Africa's GDP growth (estimated at 3.5 percent in 2018) to grow to four and 4.1 percent respectively, for 2019 and 2020. However, the African Development Bank (AfDB) suggest the projected growth will still be too slow to create enough jobs for its fast-expanding labour force.
On the positive side, growth is being stoked by increasing amounts of the African diaspora returning to the continent having trained, worked and studied in developed countries, taking with them the modern morals of how business should be done. This can, in some part, be reflected in the $560m that was invested in African start-ups in 2017. 
There are a substantial number of factors highlighting Africa as an attractive investment opportunity. These include: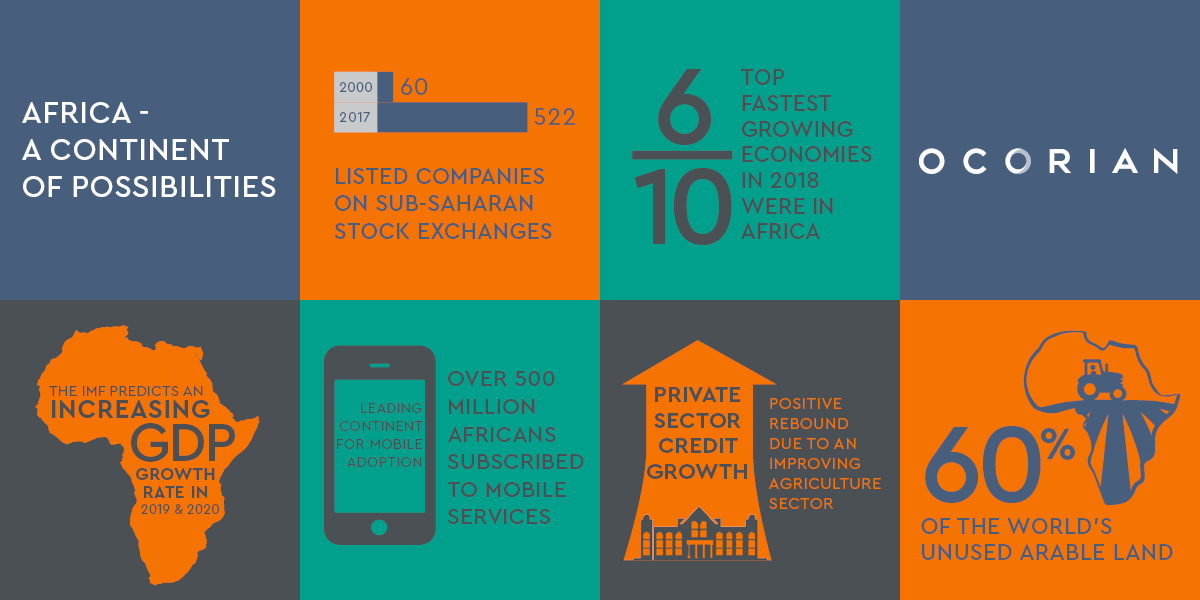 The UK government has recognised these endearing investment factors. In Theresa May's August 2018 visit, she stated her intentions to take Britain past the US as the G7's largest foreign direct investor in Africa by 2022. United Nations figures place confidence behind this claim, showing the UK's direct investment in Africa in 2016 to have been £42.7bn compared to that of £44.3bn from the US, £38bn from France and £31bn from China. Add to this IMF figures predicting the potential for sustained growth in countries such as South Africa - Africa's second largest economy - and foundations for further UK investment have every chance to bear fruit.
May also took the opportunity of visiting Nigeria to announce the signing of two bilateral pacts. These are designed to further boost economic and security ties between the two nations. Yet as African business infrastructure expands, and countries like Rwanda, Ethiopia, Botswana and Cote d'Ivoire push themselves as investment-friendly hubs, the UK must diversify its investments to aid economic growth, away from the old staple of natural resources.
What will the UK's investment in Africa look like?
The UK Prime Minister has proposed initiatives that will see £8 billion directly invested in African projects in the period 2018-21. Half of this will come from private sector investment as the government work closely with the UK's development finance institution, CDC Group.
With English as the first language in 24 of the 54 African nations, London as the world's leading financial centre and the US appearing increasingly altruistic, the UK is, on paper, well positioned to become Africa's future investment partner of choice.
The UK's International Development Secretary, Penny Mordaunt stated:
"Africa's emerging markets offer huge untapped potential to the UK. There is a massive shortage of investment, infrastructure and jobs in these markets, and the City of London is uniquely placed to help fill this gap while earning benefits for the UK economy."
Another encouraging factor which may attract UK investment is the promising progress of cross-border trade and ease of doing business between African nations. An agreement to establish a Continental Free Trade Area (CFTA) was signed in March 2018 between 44 African nations. This has the intention of covering the entirety of Africa and making cross-border trade more informal and inexpensive, enabling nations and continent alike to fully integrate into the global economy and raise GDP. Yet the UK Government must engage more with the continent in order to capitalise on the unique relationships it shares with a number of nations.
What are the challenges of investing in Africa?
Whilst Africa may be rightly seen as a developing frontier ripe with opportunity, it remains unruly and unpredictable in areas across the continent. Although not isolated to Africa, there is a lengthy list of factors to consider when conducting due diligence ahead of a potential investment in the continent.
Geographic diversity, over-hyped media coverage, uneven development including an ongoing debt crisis in low-income countries, government and private sector squabbles, security, corruption and social disruption all pose issues to any business dealings within Africa.
Because of so much uncertainty, many foreign investors wanting to invest in Africa choose recognised international financial centres from which to conduct their activities. These financial hubs serve as effective gateways helping to facilitate continental investments, providing investors with operational familiarity and business environments conducive to company growth.
Ocorian services in Africa
Ocorian offer a wide variety of fund services, corporate administration and private client services from our Mauritius office.  Contact our team for further information.