Inertia is perhaps the main reason fund managers stay with fund administrators that no longer meet their needs in terms of service levels, technology, data quality and efficiency. This helps explain why switching proliferated after the COVID-19 pandemic when the markets calmed and there was time to reflect. 
However, switching fund administrators does present challenges – though these can be overcome with the help of the right new provider. Our survey of fund managers identified the three largest concerns preventing fund managers from switching fund administrator.
What are the three main concerns preventing fund managers from switching fund administrator?
1. Speed and validity of migration of data (72%)
A new provider will sometimes look to draw a line in the sand before taking the structure forward, with the result that backfilling the historic data becomes an afterthought. This can lead to problems further down the line. 
2. Perception of investors/market (51%)
Often the fund's investment pool won't just be invested in one structure but in several that are running concurrently. If the primary reason for the switch is complaints from investors, it's important to reassure them that this is a change for the better.
3.  Impact on reporting cycle (49%)
It is usually advisable to avoid the audit season and end-of-year reporting when both your incumbent and your new fund administrator will have significant resources already committed to those tasks. For this reason, most – though not all – migrations are performed in the second and third quarters of the year. Switching in the third quarter is ideal if you have a calendar year-end, as the new administrator can start afresh in the New Year.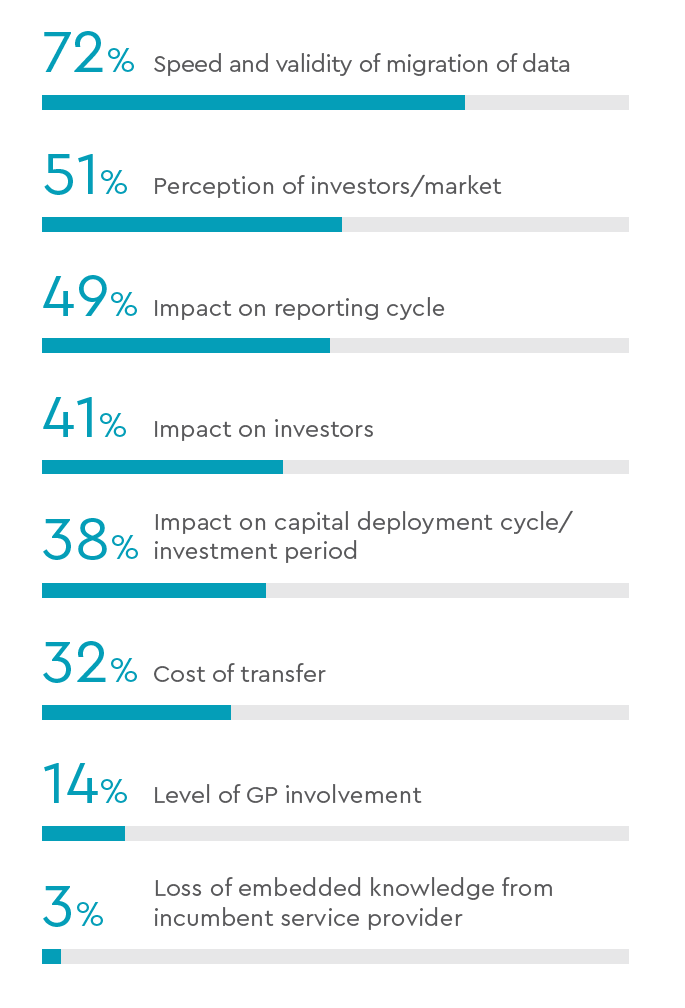 All of these challenges can be overcome by working with a new fund administrator that has a dedicated onboarding team with proven processes and experts from all areas of the business.
SLAs that set out strong minimum requirements can help reassure investors that the problems of the past – which may have disrupted capital calls or led to reporting errors – will not be revisited with the new provider. 
A strong onboarding team will include technical experts. They can assess the fund manager's existing technology and work out how best to backfill the historic data in the new system. This should never be an afterthought but a core part of the onboarding process.
Looking to switch fund service providers?
Ocorian has over 30 years of experience in delivering operational excellence across our fund administration, AIFM, accounting and depositary services to the world's largest institutions along with dynamic start-up fund managers and boutique houses.
We have a strong track record of successful migrations from other fund service providers. In 2022 alone, our onboarding and solutions team successfully completed over 40 migrations from our competitors.
Find out why fund managers are switching their fund administrator to Ocorian. To arrange a call to discuss your requirements, please contact our Fund Services Business Development Team. 

Download our free guide: A complete guide to switching your fund administrator


Next up: Discover the five key pillars that should be on your radar when selecting a fund administrator.