Since the 1830s, family offices have been taking care of exceptional wealth but now as their numbers exceed 20,000 entities worldwide[1], it is clear they have evolved from intimate paternalistic operations to ones responsible for running many millions in assets under management.
As part of that evolution, family offices have become more professional often hiring lawyers, advisers, accountants, and investment managers to help manage their expanding portfolios and to assist the next generation in achieving their financial goals.
We are entering a new era for family offices which PwC calls 'family capital' and 'family investment firms' noting these are "distinct from the family enterprises that spawned them, and which are competing head-to-head for deals with sectors like venture capital, private equity and sovereign wealth funds."[2]
Yet at the same time, these new family capital or investment firms cannot lose sight of their core mission: to ensure they deliver long-term financial stability in line with the beneficiaries' values and objectives.
In this new world for the family office, we take a look at the private capital journey, including the role of different asset classes in today's portfolios, the influence of the next generation, and the role of third parties in supporting families to achieve the best outcomes.
The professionalisation of the family office
There has never been a one-size-fits-all family office but in recent years the needs and demands of these entities have become more diverse and complex than ever before.
As the family wealth passes through the generations, skills transfer, objectives change and often individuals are spread more widely across the globe.
In response, family offices seek additional support from third parties and specialist individuals who can provide vital functions including administration, investment and risk management, technology, and legal services.
A 2023 survey from Ocorian[3] covering more than 130 family offices worldwide with $62.4 billion in assets under management, found 91% expect to increase the number of services they outsource to third parties in the next three years, with over a quarter (28%) predicting dramatic increases.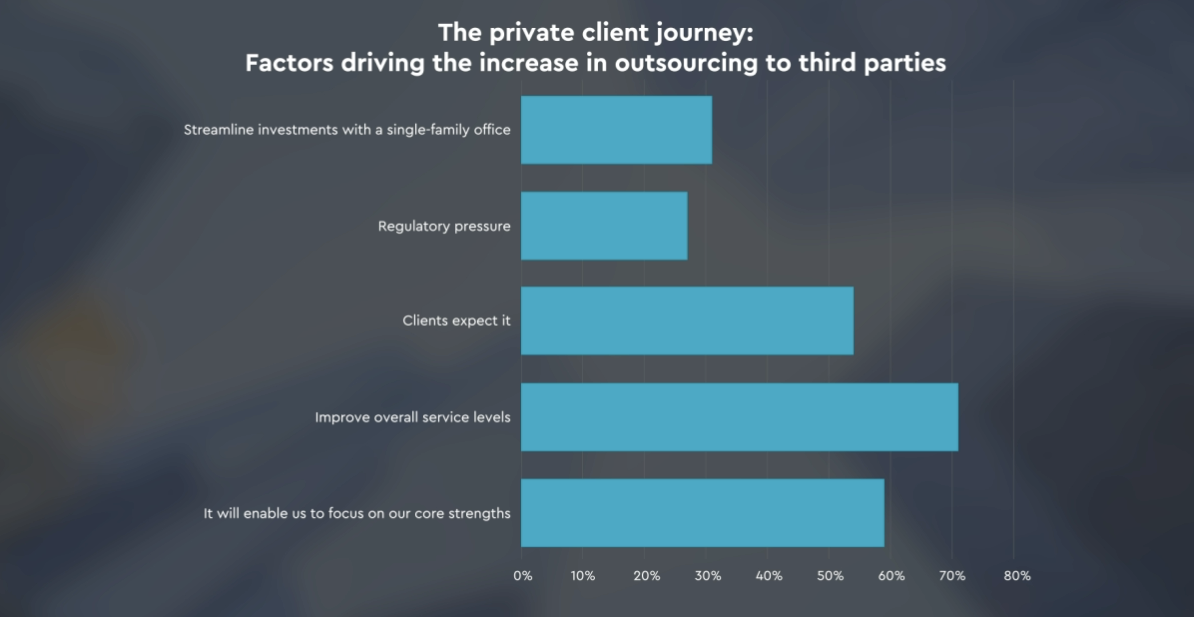 Source: https://info.ocorian.com/family-office-survey-2023
A new investment universe
As global economic conditions continue to look uncertain, family offices are using third-party asset managers to help them make the most of their allocations to traditional asset classes including equities and bonds.
The 2023 Ocorian survey of family offices finds that 85% will increase their use of third parties to help them manage their liquid investment and navigate volatile markets.
But the professionalisation of family offices is also opening up a new investment universe that includes alternative assets ranging from hedge funds, private equity, venture capital, and real assets such as infrastructure.
Almost all family offices surveyed by Ocorian agree that the sector is increasingly investing in alternatives and the switch is a long-term trend.
Meanwhile, one-third of family office professionals plan to increase allocations to real estate by 50% while 33% will make the same increase in allocations to private debt[4].
Family offices are drawn to the alternative asset world primarily by outperformance expectations, but survey respondents also cite diversification from traditional investments and the improved transparency these instruments proffer. Increased choice in the sector was the fourth most popular reason for investing ahead of inflation protection and the ability to provide regular income.
There is also a growing interest in crypto or digital assets in family office investment portfolios, which reflects a rising appetite for risk. Nine out of 10 respondents say their clients are making a move to include such assets in their investment strategies. However, there is a need for greater support for family offices in this field, with four-fifths saying they struggle to outsource the management of these assets to third parties who can support the regulation and reporting obligations involved.
Whether looking at alternative or traditional asset classes, family offices increasingly are incorporating environmental, social and governance (ESG) issues into their investment strategies.
As the influence of the next generation of family members comes to bear on investment strategies, and regulation and policy drive the agenda, this trend can only gain pace.
Nine out of 10 family office professionals surveyed by Ocorian say there will be an increase in focus on ESG principles from a fiduciary perspective over the next three years[5].
Alternative structures
An interest in allocating to private markets extends beyond using funds, and family offices are seeking alternative structures to support their investments.
An Ocorian study of more than 60 family offices around the world, found that while funds remain the most popular vehicles for investing in alternative assets for 77% of respondents, more than half (56%) report an increase in the use of Special Purpose Vehicles (SPVs) and GPLPs. 
There is also a growing interest in investing in protected cell company (PCC) and incorporated cell company (ICC) structures.
A cell company is a form of corporate body with a separate legal personality which permits the assets and liabilities of a company to be segregated into different cells. This offers the advantage that in an insolvency situation, the recourse of any creditors will be limited to the specific cell with which they transacted. 
A protected cell of a PCC is not a separate legal entity - although it is treated as if it were for many purposes - and transacts business through the PCC. An incorporated cell of an ICC is an entirely separate legal entity which may transact and enter into agreements with third parties in its own name.
Offshore excellence
Family offices increasingly recognise the value in accessing such structures offshore, but they need to be sure that their chosen jurisdiction can demonstrate it is well-regulated, transparent, and accessible.
The Channel Islands have long been a centre for financial excellence and boast an established, trusted infrastructure for family offices seeking professional fund services.
Suitable options for family offices include the Guernsey Private Investment Fund (PIF), which was set up in November 2016 and is overseen by the Guernsey Financial Services Commission. The PIF is a flexible structure which can be set up as open-ended or closed-ended funds, with the ability to establish multiple classes of shares, each with distinct rights and restrictions.
Meanwhile, the Jersey Private Funds (JPF) regime, which has been available since April 2017, expanded the number of privately placed funds that can benefit from a proportionate and fast-track regulatory process and can be set up as an ICC or PCC.
Ocorian's family office & private capital services  
Our dedicated team provides a seamless and holistic approach to the challenges and opportunities families face.  
We can support your wealth by acting as an outsourced family office or multi-family office work and with established family offices or advisors to fill gaps in their in-house provision. 
For more than 50 years, we have offered a wide range of administrative and lifestyle services to a single individual or family, while we have established and maintained sophisticated and full family offices for those with more complex needs. 
We work closely with our clients to achieve their aims whilst ensuring that we understand the practicalities of investing in the asset classes as well as the risks involved. This includes working with digital assets and other cutting-edge investments on behalf of our clients for more than five years.
When it comes to sustainable investments, teams across all our service offerings are leading proactive conversations with clients on ESG asking; how important is it, how can we assess it, and what is best practice.
---